Tim Newman continues on the Boeing 737MAX theme and, as well as refering to a fascinating supporting article by a pilot and engineer, he further builds his entirely plausible theory that modern organisations in the public and crony-private sector care more about displaying progressive values than they do about making a safe, high quality product to sell at a competetive price. He's right, of course, as anyone who has spent any time in the blue chip corporate world will attest if they're being honest.
In the corporate sewer, there's money and favour to be made from wokeness sure enough, but an eye-opening degree of top-cover for gross incompetence is the biggest prize: wokeness weaponises mediocrity. The mediocre stick together like glue and they have each other's backs, eagerly spouting the latest banal corporate bafflegarble in lieu of actual displays of competence.
I was in the very first years of my period in corporate life, in the late 90s, when this first dawned on me. Young and wide-eyed, I imagined this massive shiny office in the City of London, HQ of a global business empire, must surely house some of the finest minds that ever walked this Earth. I was horrified and depressed at what I found.
And that was before 'the personnel woman' had been millenialized into the HR department, and spawned all the horrors that we witness today, providing bomb-proof structural cover for idiocy in plain sight.
***
Danny Baker is in trouble. Some people care… some, I suppose bewail the infringement on he freedom of thought and expression, and lament that he should lose his livelihood for a thoughtless faux pas. I have no sympathy at all. Baker was supping with the devil, and he gets no more than he deserves.
I'm sure he'll pop up on Talk Sport or LBC once his period in sackcloth and ashes is over, and I'll continue to assiduosly avoid any output that contains his banal chat and his mindless anecdotes.
***
Anyway, never mind what jokes idiot radio DJs make.. I, for one, welcome our new chocolate orange overlord.
***
Aaron Clarey thinks that the world's most valuable commodity isn't what you might think it is.
***
Guido's order-order website was always of a libertarian conservative bent and stood apart from the MSM's general morass of progressivism and wilful stupidity. That time seems to be coming to an end. It's obviously not gone un-noticed by the present minions at the website that their forebears Harry Cole and Alex Wickham went on to land cosy sinecures in the very same MSM swamp, and Paul Staines himself seems to be coming around to the idea that there's more money in getting on the woketrain than in standing on the tracks waving your arms at it.
The signs are slender at the moment.. just one or two cracks in the facade, but that's how it started at the Spectator and about 50% of the content in that now is irredemable bilge that'd have been palmed off to New Statesman or Prospect in the past.
Like casually smearing UKIP candidate Carl Benjamin as a 'bell-end' under a headline 'Chris Leslie Smears Brexit Party'.
Or calling the interview Brillo did with Ben Shapiro a 'defenestration'. God knows I hold no brief for Shapiro, but Brillo's interview was a hatchet job on someone who speaks outside of the current Overton window. That was the only window Brillo threw Shapiro out of. That Shapiro made a fool of himself is both amusing and welcome. He didn't do his research and he walked into a mantrap that anyone who knows Andrew Neil's style could see a mile away. But at the end of the day, it was an MSM stalwart closing ranks against the irksome American who was once so beyond the pale as to work for Breitbart, and I cannot countenance celebrating that.
That drip drip drip of stories with a prog-establishment premise can so easily become a torrent.
***
***
For car porn, I was going to feature the BMW 635CSi. Then it occurred to me that it doesn't look anything like as impressive and imposing in a photograph as they do in real life. So I changed my mind. I decided to do a car I've actually had myself: this is both the best and one of the worst cars I've ever owned.
I give you the Mercedes SLK AMG32.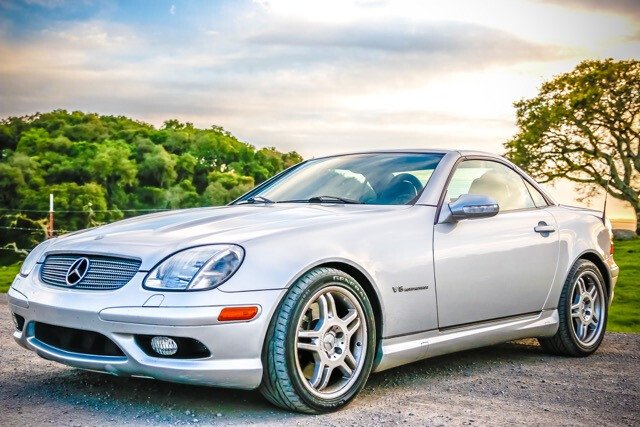 Back in the day, Mercedes AMGs were the original Q cars. Looked nothing special, went like rocketships. They were built for the Autobahns and could sit all day at 250KM/h, cool as you like.
In the case of the SLK, of course, the Q stands for Quentin, and Quentin can do you a wicked Brazilian Blow-dry. Aside of the subtle badging, the only things visually distinguishing the AMG from the ponderous SLK320 it's based on are the wheels and the front valance.
And that's great cover, because no-one expects Quentin to have more than 350 supercharged BHP and do 0-60 in less than 5 seconds.
Sadly, only the engine and the brakes seem to have had significant AMG attention. Quentin shares a ponderous 5-speed autobox, terrible recirculating-ball steering and comfort-not-speed suspension with its vanilla parents, as well as a debilitating rust habit.
And yet I loved this car… with the first retractable hard-top roof, a classic Mercedes interior, continent-devouring ride-quality, a beatifully smooth and sonorous V6, augmented by charger-whine and exhaust bark at full chat, and the balls-out power of a big V8, it was just a delight.
And it was rare: there were less than 250 of these on UK roads when I had mine.. it's down to about 180 now. It never let me down once in 4 years and 80,000 miles. Until the rust came. The rust was the only thing Chrysler contributed to this particular car, thanks to their cost-cutting on underbody protection.
Then came the rest of the effects of the Chrysler merger, and no Merc has quite felt like such a quality car ever since. The signs had already surfaced by 2004 in the new C-Class and E-Class cars of the time – cheap plastic interiors, lack of reliability, a palpable shift from over-engineering to only-just-engineering.
Apart from the plutocrat's own CL-class (C215 model), the SLK (R170 model) was the last of the cars made with that classic Merc feel. Even the coveted and spectacular SL55 suffered from the cheapness-factor of 'new' Mercs.
If these aren't classics already, surely those 180 or so left are headed that way.
AJ